Individual Rates:


Call for current prices

, 7-8 hours of fishing.
Buy t
he boat price:
Call for current prices (Yours exclusively) 7-8 hours.
Deposits:
A deposit is required to resurve. This is refundable up to two weeks before the trip.
Deposits: 14 day cancellation policy for full refund, minus $15 filing fee. Deposit is 100 percent refundable if guide cancels due to weather/river conditions or unforeseen problems.
Please note:
You will find that most all guide boats in our area are licensed to carry a maximum of six passengers. The current trend is to fish up to six fishermen out of a 20-25 foot boat.

As far as we are concerned, this can be a bit too crowded for most, especially when the other anglers are not part of your group.

We only fish four fishermen from a boat, unless you want or have six persons in your group.
AREAS WE FISH WALLEYE
Walleyes are caught in the Columbia River from the Washington Canadian boarder almost to Astoria Oregon. The number of fish being caught has been increasing over the past several years and the fish are large.
Washington record walleye landed 19 lbs
Numerous locations exist where we begin our guided trips along this stretch of the mighty Columbia River, including: below Mc Nary Dam, below John Day Dam, below Bonneville Dam, The Fishery at Cascade locks, near Fairview at Chinook Landing, near Portland airport at 42nd street and also several locations in Portland on the Columbia River and Willamette River.
---
PORTLAND WALLEYE TRIPS
Having two very productive rivers in Portland's backyard, the Columbia River and Willamette River, we have year-round fishing for walleye. These fisheries are only minutes form downtown Portland and just minuets from Portland airport hotels PDX..

WALLEYE FISHING SEASONS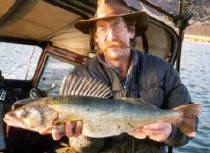 Summer is a good time to catch nice size walleye, of good eating quality, and the weather is typically warm and dry. If you are looking for trophy walleye late winter and early spring has proven to be a good time in many areas of the Columbia River.
Below John Day Dam June through August is productive. Below Bonneville Dam the end of August through mid October is a good time. Mothers Day has also provided good action at times.
January and early February is a good time to catch big walleye and numerous trophy fish have been landed, although the weather can be challenging at times with cold wind and rain.
POWER BOAT TRIPS for Columbia River Walleye
Trips are standard 2 person minimum. We can sometimes pair up a single with another for a lower rate. Groups of 5 or more will fish from additional boats. Boats are fully outfitted 23 to 25 foot jet sleds. Fishing tackle, bait and poles are provided on all trips. Many of our guides sell fishing licenses onboard ($12.00 Oregon, $8.00 Washington).
<![if !vml]>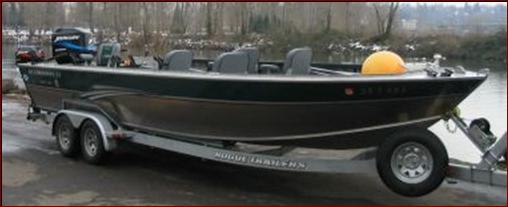 <![endif]>

Book your walleye trip now!
Columbia River Walleye Guides
Contact us
503-720-9033
E-mail: crwalleye@abproguides.com
(Best to contact us by email)


The Columbia River provides some of the best walleye fishing available in the United States
The fish are plentiful and large in fact the next world record walleye is expected to be taken from the Columbia River. Most walleye will average 2 to 5 pounds, but many run into the teens and twenties. It is not unusual for professional fishing guides to direct their clients into walleye weighing as much as 25 pounds each.

Columbia River
The Columbia River drains a 259,000-square-mile basin that includes territory in seven states (Oregon, Washington, Idaho, Montana, Nevada, Wyoming, and Utah) and one Canadian province. The river is arguably the most significant environmental force in the Pacific Northwest region of the United States. It flows for more than 1,200 miles, from the base of the Canadian Rockies in southeastern British Columbia to the Pacific Ocean at Astoria, Oregon, and Ilwaco, Washington.